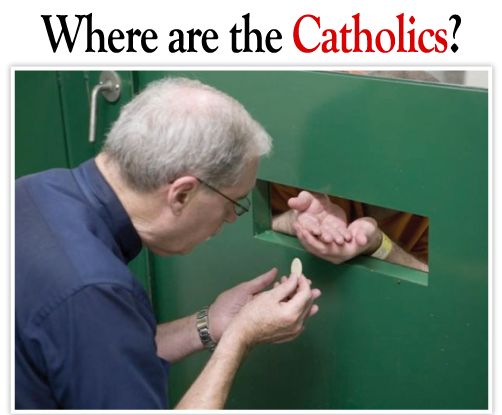 Welcome to the Act Page.
Are you already working in prison ministry? Share your ministry with us using the form on this page. Click here for resources for recruiting and training prison ministry volunteer resources>
Is Prison Ministry for You?
Where do you start?
Many individuals may be interested in getting involved but they no idea where to start, so we've set up some simple steps for you to follow to begin the process of deciding if prison ministry is for you.  The steps are labeled, Pray… Learn… Act… Share…
Pray – The Call of Christ
Prison Ministry is the concern of the entire Catholic faith community.  As Catholics we are called to act.
Prayerfully reflect on the scripture, "I was in prison and you visited me" (Matthew 25:36). Prison walls do not change the fact that we are all members of Christ, whether we are locked up or free. Inmates should not be forgotten or regarded as beyond hope. As one inmate said, "We are not animals."
Take some time to thoughtfully and prayerfully reflect on scripture, Luke 23: 39-43 and Matthew 25: 31-46, to help while you discern and discover if prison ministry is right for you.
Learn – getting started in prison ministry
If you feel called to prison ministry, it is important to proceed carefully and prayerfully.
Read and study the statement of the Catholic Bishops of the United States on Criminal Justice, Responsibility, Rehabilitation, and Restoration.
Review Dismas Ministry's Messengers of Hope training resource and DVD.

Research other prison outreach organizations.

See the Resource section of www.dismasministry.org

Check with your local diocese for information about prison ministry

. 

Find an office or group in your diocese or parish that is active in prison ministry. There may be a director of prison ministry in your diocese, or an organized prison outreach that your parish sponsors. If not, find a parish that is visiting inmates or providing prison ministry services. Check out your diocese website, hopefully their prison ministry would be represented there.

Ask them how to become involved, how to get training and where to serve.

Collaboration and training are crucial in helping to avoid duplication of efforts and unnecessary mistakes as you begin. At the very least find someone who is an experienced volunteer to advise you, and perhaps serve as a mentor to help you avoid mistakes and teach you how to deal with the rules of the criminal justice system.
Act
If you already have a prison ministry in place, please share information about it with us    (see "Share" below).
Form a jail or prison outreach.
Pray for victims and their families; reach out to them and form a support group.
Pray for the families of inmates; reach out to them and form a support group.
Help support Dismas Ministry's national prison outreach with a donation.
Join our Union of Prayer.  Not everyone in the faith community is able to become directly involved in prison ministry. We believe that without the prayers of others to support our work, this spiritual outreach to inmates cannot be successful, for nothing truly lasting is accomplished without prayer, which is our connection to God.
Some Ideas…
Become involved indirectly: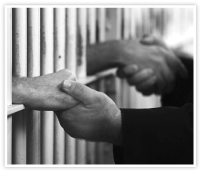 Write to an inmate in a general prison or on death row
Volunteer at a local prison ministry to help with office tasks, bookkeeping, letter-writing, etc.
Become involved directly:
Visit inmates in a local jail or prison
Reach out to victims and their families
Reach out to the families of inmates who have "a sentence of their own" because of their shame, loss and grief.
Order Messengers of Hope: A Catholic Correctional Training Resource & DVD. Make a suggested donation of $15 to benefit outreach among inmates, victims, and their families.
Presence and Hope
By their presence volunteers are signs that God and the faith community have not forgotten inmates. This is important because otherwise inmates are out of sight of the civic and faith communities. Prison ministry volunteers can serve as links between inmates and people in community.
Through their reports and stories they give a face to inmates. They encourage others to pray for inmates and support their needs. Prison ministry volunteers also can recruit others to help in this unique ministry. Since volunteers have experience reaching out to inmates, they also can help with training new volunteers.
Share
If you start a prison ministry or already have one in place, please let Dismas Ministry know.
Help create a national Catholic prison ministry network.
Let Dismas Ministry know if you have a prison outreach already in place by filling out the "SHARE" form on this page.
 Watch our "Where are the Catholics?" Video Series to hear honest sharings of those working in prison ministry.
Share
You can download a copy of the components of our "Where are the Catholics?" Awareness Project mailing by clicking here>
Does your parish or community already have a prison ministry? Tell us about the great work you are doing!