A National Catholic Prison Ministry in the works.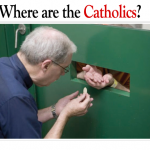 Dismas Ministry launches a National Campaign striving to bring awareness to the over 300 Catholic dioceses in the United States that are in desperate need of Prison Ministry Volunteers. This National Prison Ministry Awareness project titled, "Where are the Catholics?" strives to shed the light on the severe lack of Catholic involvement in Prison Ministry.
Many religious organizations provide prison ministry to the incarcerated but, the Catholic community is severely lacking in its ministry to answer the call of the gospel.  One Catholic prison chaplain states, "Non-Catholic volunteers outnumber Catholic volunteers by nearly 40-1.
The Word of God is clear–outreach to the imprisoned is enjoined on all Catholics by the Christ himself who not only gave us his words "You visited me when I was in prison" (Matt. 25:36) Yet the sad truth is that the Catholic community has not always responded to this often neglected work of mercy. Many parish and diocesan websites do not include prison ministry among the list of ministries, and many parishes and dioceses do not have a prison ministry coordinator or prison outreach. We want to recognize and celebrate that there are parishes and dioceses that are already doing a tremendous job of bringing pastoral care to inmates within the boundaries of their parishes, however we are far from meeting the growing need.
Through this National Prison Ministry Awareness project Dismas Ministry is asking all the over 13,000 Catholic Parishes to do the following:
• Give prison ministry a prominent place on your parish website,
• Ensure that someone is appointed as prison outreach coordinator to recruit and train volunteers,
• Visit the inmates within your parish boundaries at regular intervals,
• Include prison inmates and victims as well as their families in the prayers of the faithful.
As part of our effort to raise awareness of the need for a stronger Catholic prison outreach, we invite you to share what you are already doing, or would like to do, to bring pastoral services to inmates. The hope of this Nation Campaign is to encourage a national support network as well as a response that equals or surpasses the efforts of non-Catholic prison volunteers. Contact Dismas Ministry and let us know what you are doing in your parishes! Go to www.dismasministry/ACT to share with us your ministries.
https://dismasministry.org/wp-content/uploads/2017/12/milwaukee-ministry-dismas.png
0
0
Ron Zeilinger
https://dismasministry.org/wp-content/uploads/2017/12/milwaukee-ministry-dismas.png
Ron Zeilinger
2012-11-27 01:57:54
2017-12-01 15:41:21
Dismas Ministry asks, "Where are the Catholics?"
The gratitude expressed by inmates on our feedback card never ceases to impress us. Truly these are children of God yearning to strengthen their faith and we hope their words touch your heart.
"… I got your address from another inmate. I myself have been baptized in the Catholic Church but I have not ever attended a Catholic Mass. I have a lack of knowledge about my own religion. This lack of knowledge does not stop me from wanting to embrace Christ. So far I've only been able to attend non-Catholic sermons here in jail. But these sermons lack something, just like the King James version lacks the full works. I am writing to ask for help in teaching me about the Catholic faith… and any literature about the Catholic faith."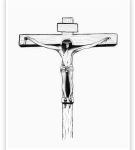 "…I thank you so much for what you are doing. Please know that your work is a tremendous blessing and 'feeds' the spirits of many desperate for it. May God continue to bless you."
"…I would like any material that can help me educate myself so that I can become very spiritually aware. God bless you for your work. There are a lot of forgotten souls and you are touching them in their need… Thank you for your ministry, you are tapping a large and willing sector of humanity. You are a comfort and a blessing."
https://dismasministry.org/wp-content/uploads/2017/12/milwaukee-ministry-dismas.png
0
0
Ron Zeilinger
https://dismasministry.org/wp-content/uploads/2017/12/milwaukee-ministry-dismas.png
Ron Zeilinger
2012-10-29 16:28:53
2017-12-01 15:41:25
INMATE VOICES
We believe there is something really special about being able to fill the requests made by inmates. Because they are asking for the Bibles, Prayer books and Study Course themselves, we know each item is truly a gift to them. Here are some requests that inmates write to us, and it is a blessing fill them.
"… (My cellmate) has reopened my heart to a lot of good things… the most important of which is my spirituality. My cellmate shared Pray in the Spirit, Catholic Prayers for Inmates…Could (you) mail me one of those books and …a rosary and any other printed materials that could help to guide me toward the narrow path to richness? Thank you for any helpful materials…" Inmate, Weber County Jail, Ogden, UT
"…Since I received Pray in the Spirit in 2007, I've been a stronger person (and) it helped me be a more patient, understanding person…I try my best to bring (others) up when they're feeling down by letting them read the prayers. It also brought me closer to God, and now, every day, my Faith is with God and I feel so much better. I do have a Catholic Prayers for Inmates, but it's slowly coming apart. I would appreciate it if I could get a new one." Inmate, Halawa Correctional Facility, Aiea, Hawaii
"…I am new to the Catholic Faith but I feel welcome and that my search for the true church is over. Now I can rest and grow in the Lord Jesus Christ. I am very interested in receiving a Prayer Book. Can you please send me one? I am very grateful for your services." Inmate, Lakin Correctional Center, West Columbia, WV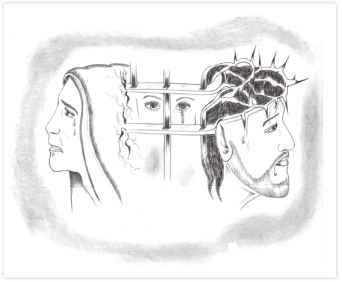 https://dismasministry.org/wp-content/uploads/2017/12/milwaukee-ministry-dismas.png
0
0
Ron Zeilinger
https://dismasministry.org/wp-content/uploads/2017/12/milwaukee-ministry-dismas.png
Ron Zeilinger
2012-10-19 16:33:51
2017-12-01 15:41:08
INMATE VOICES