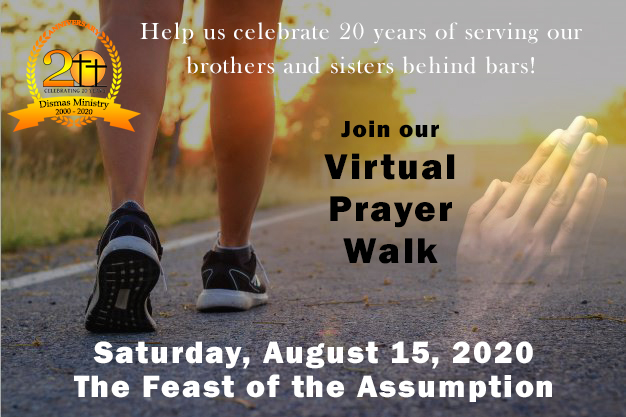 In honor of Dismas Ministry's 20th Anniversary, we are inviting you to join our Virtual Prayer Walk on Saturday, August 15, 2020, the Feast of the Assumption of the Blessed Virgin Mary.
There is so much happening in our world right now causing confusion, indifference, heartache, grief, and struggle. Our brothers and sisters behind bars are still unable to have visitors. How can we help them, and others, during this challenging time for us all?
We can help through our collective prayers. Let us pray together for those isolated and separated from their loved ones due to this pandemic.
A Prayer Walk is a form of intercessory prayer, praying for the needs of others around you. As you walk, you silently pray for each person, each house, each need that you have. A Prayer Walk is a way to bless others around you, covering them in prayer. But, during a Virtual Prayer Walk we're not walking as a group, but, rather, alone or with a family member on the same day – August 15, 2020.
While we may not live physically close to the people and places so desperately in need of prayer, we are virtually connected in so many ways.
On Saturday, August 15, we invite you to walk and pray with us. We will all be walking together – virtually!  Invite your family to join you, too. Consider taking a walk around your own neighborhood praying over every house, every neighbor.
If you are unable to take a walk, here are some possible ways to pray with us.
1) Pray through the news
Open a newspaper. Scan each article looking for who and where you need to pray. Pause over each story to pray for the needs of the community and the individuals impacted. You can choose to focus on the front page or go section by section. Maybe start with world news, praying for needs across the globe, and then work your way through national news, state news, then local news. If you don't have a printed newspaper, open one of the news sites online and pray through the headlines there.
2) Pray through your Facebook feed
Open Facebook and pray for each person and news article in your feed. Scroll down the list, praying for each person and each need you see. Rather than being a time drain, Facebook becomes a prayer list.
3) Pray through your email inbox
Open your email inbox and scan through the list of senders. Pray over each one. If you have newsletters or prayer lists you receive via email, open those and pray through them.
4) Pray through a directory
Do you belong to an organization that publishes a directory of members, such as the PTA at your child's school or your church? Open that directory and pray over each name, even the ones you don't know.
5) Pray through Google Maps
Maybe there's a neighborhood or community that's particularly on your heart. If you can't physically go there for a prayer walk, open Google maps to that location and virtually walk the streets. Stop at each house or building and pray for the people there. This could be your own neighborhood, one where you used to live, or an area you know that particularly needs prayer.
Whatever method you choose, let's join our voices in prayer and ask God to fill the dark corners of this world with His light. Let's band together as prayerful, faithful people battling the forces of evil with prayer. Let's prayerfully ask God to lead us in our responses, and guide our words so they may be filled with love and compassion. Let's make the news and social media places of prayer and hope, instead of fear and despair!
"Then you will call on me and come and pray to me, and I will listen to you."
~Jeremiah 29:12
https://dismasministry.org/wp-content/uploads/2017/12/milwaukee-ministry-dismas.png
0
0
Juliann Joerres
https://dismasministry.org/wp-content/uploads/2017/12/milwaukee-ministry-dismas.png
Juliann Joerres
2020-08-10 13:59:06
2020-08-10 13:59:06
Virtual Prayer Walk - Saturday, August 15, 2020