This #GivingTuesday, Dismas Ministry is raising funds to support their mission of providing bibles to the incarcerated – free of charge!
In 2018 Dismas Ministry provided over 30,000 bibles
to prisoners across the United States.
Through your support of Dismas Ministry, you help to restore hope to those who are in despair. They are among our most vulnerable neighbors. Please consider supporting our mission and helping prisoners like Michael this #GivingTuesday!
Michael's Story – In his own words.
Dear Dismas Ministry,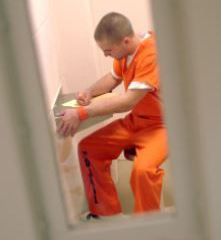 I would like to share my story of conversion with you. I tell you this so you can be assured that the work all of you do in Christs name is changing people lives and most important saving souls in the process.
I was born and baptized Catholic. Although my family attended Catholic Mass every Sunday, my childhood didn't provide me with a strong faith or desire to know more about God's Revelations and truths. I turned away from God and questioned him and his ways. In other words, I had fallen away from the Church and Christ. To make a long story short these vices lead me to where I am today and I rightly deserve my punishment and I am thankful that I can make satisfaction for my sins by the grace of God.
I am now at the age of 35 I have spent almost 4 years in prison with roughly 4-5 years left. I have taken this time to study God's word and his Church's teachings.  It has truly changed my life and saved it in the process.  "Thanks be to God." I am thankful for the Lord's church. I am helping the church in all the ways that I can, as a member of our Lord's Resurrection.  We have wonderful Clergy and volunteer lay people who come in and celebrate Mass with us.  It's truly amazing to witness the church and its members acting in the spiritual and corporal works of mercy.
I am so excited for your Bible Studies and the gifts that you have to offer. I will be sure to share those with others as well.  God Bless all of you and thanks again for being my family in Christ. Please continue to pray for me and my family and all the victims of who have been affected by violence.
~Michael, an inmate.
You can start donating today!
Our goal is to raise $5,000.
That's 1,000 Bibles!
The mission of Dismas Ministry is to provide prisoners with the free Catholic scripture, faith and prayer resources they need to restore their relationship with the Catholic church and with God. We provide these free resources in the spirit of Christ's gospel, "What you have received freely, give freely" ~ Matthew 10:8.
Despite where they are, prisoners are still members of Christ's Body and should not be forgotten. Many will use their time behind bars to reassess their lives, and with God's help, make amends for the way that they have victimized others. As fellow Catholics, we strive to support their spiritual rehabilitation.
Please considering supporting our mission and helping inmates like Michael this #GivingTuesday!