The St. Dismas Award

The St. Dismas Award is given annually, by Dismas Ministry, to persons in recognition of their outstanding service to the incarcerated. The Board of Directors puts out a call for nominations in the fall of the year prior to the award year and a special committee of the board reviews all nominations.  The award winner is announced in November and the award ceremony takes place on or near the Feast of St. Dismas on March 25.
Announcing the 2023 St. Dismas Award Recipient
Toni Jordan.
The Board of Directors of Dismas Ministry is pleased to announce the recipient of the 2023 St. Dismas Award. Toni Jordan will be presented with the award in spring 2023 at a special event in St. Louis, MO.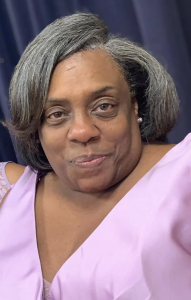 Jordan has been an advocate and champion for incarcerated women and those rebuilding their lives after their release from prison. She currently serves as the Women's Support Coordinator with Criminal Justice Ministry, an agency that supports and empowers those impacted by incarceration.
An addict for more than 20 years, Jordan knows hardship and struggle from her days of living on the street. She was arrested for shoplifting, which she did to support her drug addiction. Jordan's life focus changed when, just 10 days into her prison sentence, her mother died. It was the wake-up call she needed to choose a different path for herself.
In the recommendation from the award committee, Board Member Loretta Walters stated: "Toni is a remarkable woman. She battled her drug addiction for many years until it caused her to end up in prison. While in prison, she realized she had hit rock bottom and needed help. She started going to church while incarcerated and found God. He was her answer. She committed herself to Him and vowed that, when she was released, she would help other women get through the struggles of drug addiction. She has worked with women in prison, and those who have been released, ever since."
Jordan knows well the road many of these women have traveled. Her dedication to help women living on the margins is rooted in her own story, and the resilience and resources, that she knows, it takes to make a new life.
"God brought me through the journey and all the trials, tribulations, and adversities, and now it's my time to give back," said Jordan.
Learn more about Toni from this article and video titled, "Toni Jordan pulls herself out of drugs and despair and now helps incarcerated women."