Like a butterfly trapped in her cocoon
trying to escape the straight jacket
Can't move, can't breathe, can't see,
can't even fight back.
The only thing I can do is stay still,
but then this voice pops in my head.
I know you're not gonna just stay still
and let him win.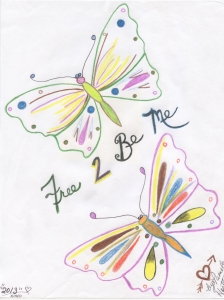 I'm yelling inside of my head silently
No! No! No!
I am strong, and I will win this fight;
all I have to do is: fight, fight, fight.
I feel a strange feeling within me
I begin to move, I begin to really move.
I hear the cracking of my cocoon
I feel my wings stretch out;
my wings are finally free.
The cool air feels so good and refreshing
I burst out of my cocoon finally.
I look at myself and I am the most beautiful butterfly
in the whole universe.
My colors are bright, shiny, and so silky
I flap my wings and fly high in the sky
cause I am finally free
like the rest of the butterflies.
This was written by Nay Na, an inmate,  for the "I Am Beautiful" book series Volume 5.  Art is the creative work of Pamela Hostler, an inmate.
The I Am Beautiful project represents the personal contributions of women inmates across the country who sent us their writings and art regarding their experiences of abuse.  This work is their personal writing and art. 
The project encourages them to express their past experiences, their road to survival over abuse, and their opportunity to make a difference in the lives of other women in prison who have experienced indignity and violence at the hands of others, often from those who were supposed to love them.
A Survival Resource – Created by and for Women
It is our hope that everyone who reads this book will be encouraged and strengthened to stand up, count themselves worthy of dignity, and see themselves as beautiful within and without.