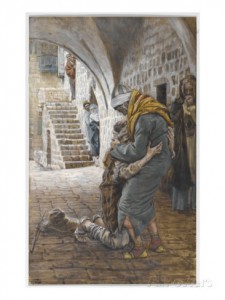 Today, on Tuesday, December 8, 2015, which is also the Feast of the Immaculate Conception, Pope Francis opens the Extraordinary Jubilee Year of Mercy.
In proclaiming this special year long focus on the gospel theme of mercy, he is calling the Catholic community, and the global community, to reflect on the reality of God's mercy. He calls us as followers of Jesus to accept this mercy for ourselves, and to share it with our fellow sojourners on earth.
For Dismas Ministry, this is a special challenge to work with even more dedication to fulfill the words of Jesus, "when I was in prison you visited me". This means providing support to our sisters and brothers in prison. It also is a call to work closely with our fellow Catholics to bring the message of God's all-embracing mercy to the dark and often hopeless life behind bars.
As a powerful symbol, Pope Francis opens wide the doors of St. Peter's Basilica: "No one can be excluded from the mercy of God; everyone knows the way to access it and the Church is the house that welcomes all and refuses no one. Its doors remain wide open, so that those who are touched by grace can find the certainty of forgiveness. The greater the sin, so much the greater must be the love that the Church expresses toward those who convert."
He asks all of us as members of Christ's body to
"rediscover the richness encompassed by the spiritual and corporal works of mercy."
"The call of Jesus pushes each of us never to stop at the surface of things, especially when we are dealing with a person. We are called to look beyond, to focus on the heart to see how much generosity everyone is capable…We want to live this Year in the light of the Lord's words: "Be merciful, just as your Father is merciful" (Luke 6:36).
This Holy Year begins today on the Solemnity of the Immaculate Conception (December 8, 2015) and ends November 20, 2016, on the Sunday dedicated to Jesus Christ, King of the Universe. He is the living face of the God's never ending mercy.
https://dismasministry.org/wp-content/uploads/2015/12/Dismas-YearofMercy-Slider2.jpg
400
1040
Ron Zeilinger
https://dismasministry.org/wp-content/uploads/2023/01/logo-for-web-header.png
Ron Zeilinger
2015-12-08 18:53:59
2017-12-01 15:37:55
Pope Francis Proclaims an Extraordinary Year of Mercy