On Friday, April 29, 2022, at the 17th Annual Celebrate Internships Employer Appreciation Event, the Milwaukee Area College Internship Consortium (MACIC)* recognized Dismas Ministry as an Outstanding Small Employer Internship Program. Dismas Ministry was nominated for this award by Tom Kipp, Director of Experiential Learning and Career Education at Cardinal Stritch University.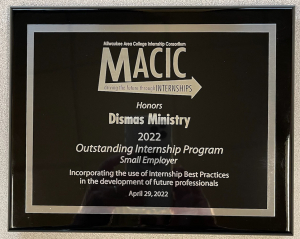 Each year, MACIC recognizes companies and organizations that have developed exceptional internship programs for college students.  The criteria for these awards include providing excellent mentoring for interns through a well-structured internship experience and clear evaluation process, giving interns the opportunity to develop professionally through connecting them to others in the field, and providing interns with opportunities to expand their learning in the field through research and presentations.
The award was presented to Ms. Tyler Curtis, executive director of Dismas Ministry, during a virtual award presentation.
"Cardinal Stritch is fortunate to have Dismas Ministry as one of our Internship Partners. Tyler has gone above and beyond in working with students to assess their professional goals and provide them with a meaningful professional experience that gives them insight not only into the world of ministry, but also into professional norms, administrative strategies and efficiencies, and the importance of collaboration," said Kipp. "She is intentional in providing her interns with feedback that is both nurturing and challenging. She embraces the Servant Leader model, and her students benefit by gaining insights they might not get in other internships."
In 2019, Dismas Ministry relocated its operations to the campus of Cardinal Stritch University. Since then, Dismas Ministry has been able to engage several university students in meaningful internship opportunities.
"It is an honor to be recognized for our work with and in support of students at Cardinal Stritch University," shared Curtis. "As an onsite employer, we have a unique opportunity to collaborate daily with Stritch students, faculty, and staff. In a relatively short period of time, we have developed this program for students to engage with our organization. It is hoped they walk away with a meaningful experience, and that we help prepare them, even in the smallest of ways, for future success in their careers."
Please continue to follow us and watch our blog as we highlight the wonderful students we have had the pleasure to work with since our arrival on the Stritch campus.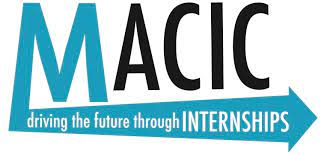 *The Milwaukee Area College Internship Consortium (MACIC) is a professional organization that supports internship directors and staff from all of the public, private, 2-year and 4-year colleges and universities in Southeastern Wisconsin. 
https://dismasministry.org/wp-content/uploads/2022/04/MACIC-award-2022.jpeg
907
1137
Juliann Joerres
https://dismasministry.org/wp-content/uploads/2023/01/logo-for-web-header.png
Juliann Joerres
2022-04-29 16:06:07
2022-05-23 15:03:43
Dismas Ministry recognized as an Outstanding Small Employer Internship Program