When will I wake up and get it?
Yeah, I say that to myself at least a thousand times a day.
I don't understand what it is I'm looking for in the world. Is it love, peace, or maybe I just joy and happiness? I just don't know. I'm so confused.
I let men use and abuse me anyway they wanted to and accepted it as love. I bet that some of you can relate.
I beat myself up day in and day out because of the mistakes I've made and the things I've allowed people to do to me.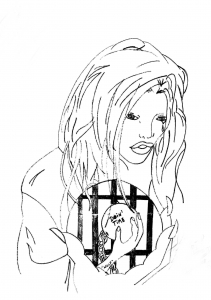 Why can't I be loved normally with happiness? I ask myself that every time I see a movie with a fairy-tale ending, every time I read a romance book about the knight in shining armor, every time I see a couple on the street, holding hands, walking and talking. I say yup, they're deeply in love. I wonder why I can't have that or why I never had that before.
When I love, I love hard. I love myself; I tell myself that every time I look in the mirror. If you don't love yourself, then start now. Tell someone, "I am beautiful and you are too." Tell yourself, "Yes, I am LOVED today. I will be loved no matter what."
From all the hurt and pain I went through, I say I AM LOVED AND I LOVE MYSELF. REPEAT THESE WORDS TO YOURSELF EVERY DAY AND YOU'LL START
TO BELIEVE.
This was written by Maria, an inmate,  for the "I Am Beautiful" book series Volume 5.  Art entitled, "Doin Time," is the creative work of Sam Lupo, an inmate.
The I Am Beautiful project represents the personal contributions of women inmates across the country who sent us their writings and art regarding their experiences of abuse.  This work is their personal writing and art. 
The project encourages them to express their past experiences, their road to survival over abuse, and their opportunity to make a difference in the lives of other women in prison who have experienced indignity and violence at the hands of others, often from those who were supposed to love them.
A Survival Resource – Created by and for Women
It is our hope that everyone who reads this book will be encouraged and strengthened to stand up, count themselves worthy of dignity, and see themselves as beautiful within and without.