The Board of Directors of Dismas Ministry, Inc. is pleased to announce the recipient of the 2022 St. Dismas Award. Paul Caruso will be presented with the award in spring 2022 at a special event in suburban Atlanta, GA.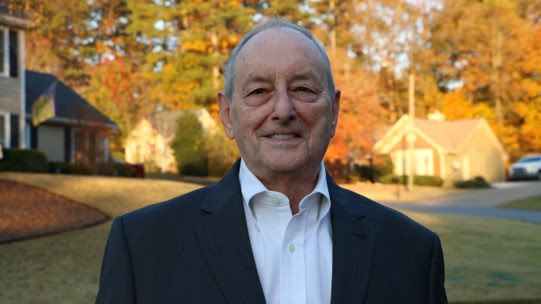 Caruso has served the incarcerated and indigent for over 32 years, and currently is the leader of the St. Joseph Cafasso Prison Ministries in Georgia, which he founded in 1999. Caruso has said that inmates, though often "treated like lepers," are in fact "children of God," and that "conversion of hearts" is his main mission.
Visiting both men's and women's prisons, Caruso and his team of 20 volunteers conduct weekly communion services, catechism classes, and faith discussions, as well as RCIA with an attending deacon. He and his team also visit inmates in solitary confinement and have witnessed many conversions even there. Caruso has been present at over 150 baptisms and confirmations during his time in prison ministry.
In the recommendation from the award committee, Board Member Joshua Stancil stated: "The committee was particularly struck by Paul's response to a life-threatening battle with COVID earlier this year. At 78 years of age, Paul was quite vulnerable to the virus, and spent nearly two months on a ventilator, in a coma. He has since recovered, and recently met with the Archdiocese of Atlanta to assume responsibility for three more prisons."
Throughout more than three decades in prison ministry, Caruso estimates he has served nearly 40,000 people.
"In all my life, I have never seen a humble 'servant of God' like Paul, who serves as effectively as he does. He has taught me so much about my faith, and how to serve others. All on his volunteer team feel deeply about Paul and his ministry that he performs humbly and selflessly," said Kevin Reidy, a prison minister who nominated Caruso for the award.
Past Awards
The St. Dismas Award is given annually, by Dismas Ministry, to persons in recognition of their outstanding service to the incarcerated. The first annual St. Dismas Award was given posthumously in honor of Rev. Christian Reuter, OFM, in 2019. In March 2020, the second annual St. Dismas Award was to be presented to Bill Gaertner. Due to the pandemic, the event was postponed. On September 30, 2021, Bill Gaertner was presented with the 2020 St. Dismas Award. The Board of Directors suspended the program in 2021.
https://dismasministry.org/wp-content/uploads/2023/01/logo-for-web-header.png
0
0
Juliann Joerres
https://dismasministry.org/wp-content/uploads/2023/01/logo-for-web-header.png
Juliann Joerres
2021-11-18 15:01:24
2021-11-18 15:01:24
Paul Caruso Named 2022 St. Dismas Award Recipient