HOLY WEEK
As we begin Holy Week it is a happy coincidence (or no coincidence?) that Monday March 25 is the annual feast of Saint Dismas, the patron of our national Catholic prison ministry. The things that unfolded on the cross between this "good thief" as he has been called traditionally and Jesus is truly remarkable. The entire passage of Luke 23: 33-43 is so profound in meaning that centuries of reflection by many holy people have not plumbed the depths of it.

The words and melody of the great American southern hymn "What Wondrous Love Is This?" keeps running through my mind. It is wondrous that God went to such stupendous lengths to reveal to us the infinite, unconditional love that He has for us fumbling human beings.

If Dismas can make it into the kingdom as the saint of the last minute rescue, there is always hope for the likes of us too. That is why we call ourselves in this prison ministry business "messengers of hope."

My hope for everyone is that hope abounds in your lives as Holy Week unfolds in all its wondrous love.

And thank God for the beautiful example of Pope Francis who will hold a Mass in their prison and wash the feet of youthful offenders in Rome on Holy Thursday. He could have been doing it in the splendor of St. Peter's but he chose the prison setting instead.
Ron Zeilinger, Director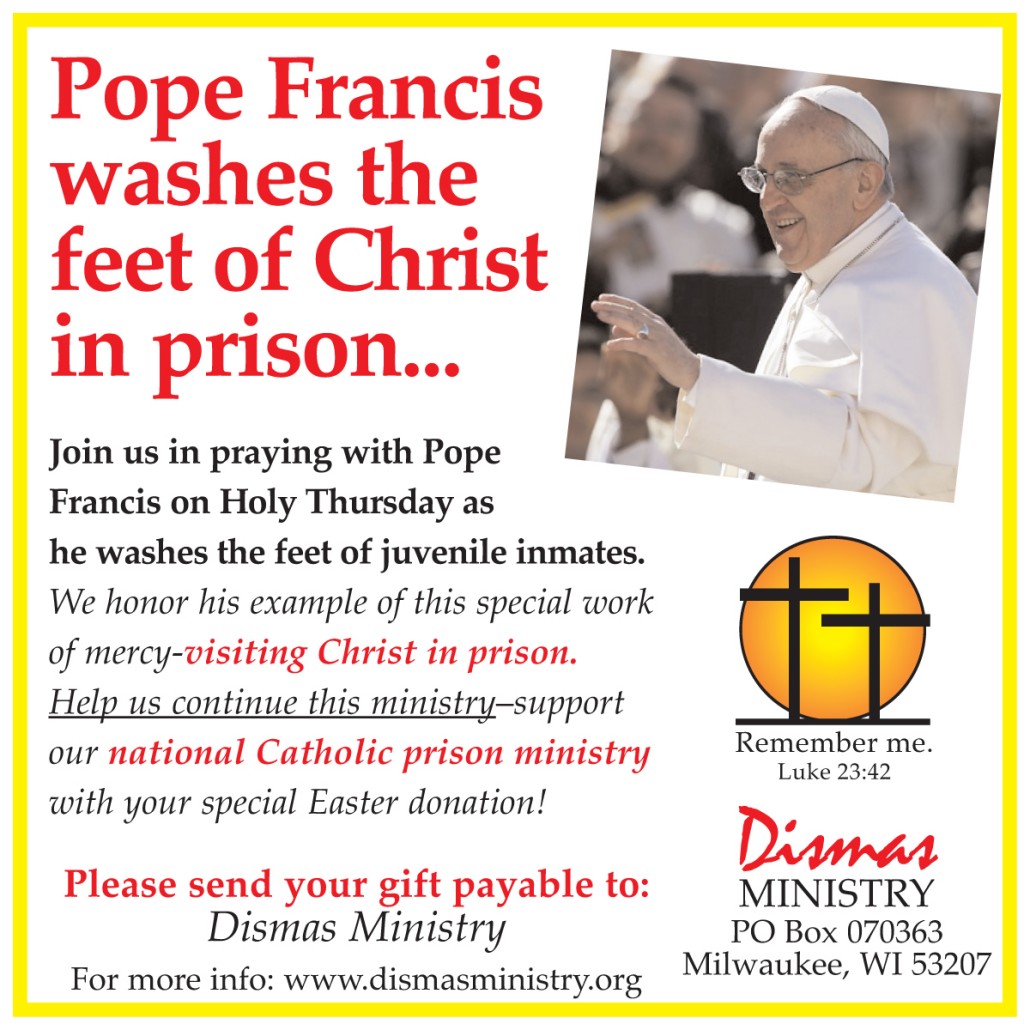 https://dismasministry.org/wp-content/uploads/2023/01/logo-for-web-header.png
0
0
Ron Zeilinger
https://dismasministry.org/wp-content/uploads/2023/01/logo-for-web-header.png
Ron Zeilinger
2013-03-24 15:13:14
2017-12-01 15:39:47
Holy Week – A Reflection by Ron Zeilinger