Today, Pope Francis traveled to a prison near Rome to wash the feet of a dozen inmates, a Holy Thursday ritual that symbolizes humility and highlights his papacy's attention to those on society's margins.
Pope Francis has made it a tradition since the beginning of his papacy to celebrate the Mass and foot-washing ritual on Holy Thursday at a prison or detention center, refugee center or rehabilitation facility.  He has washed the feet of prisoners every year since 2012 (except for 2020 and 2021, due to the pandemic).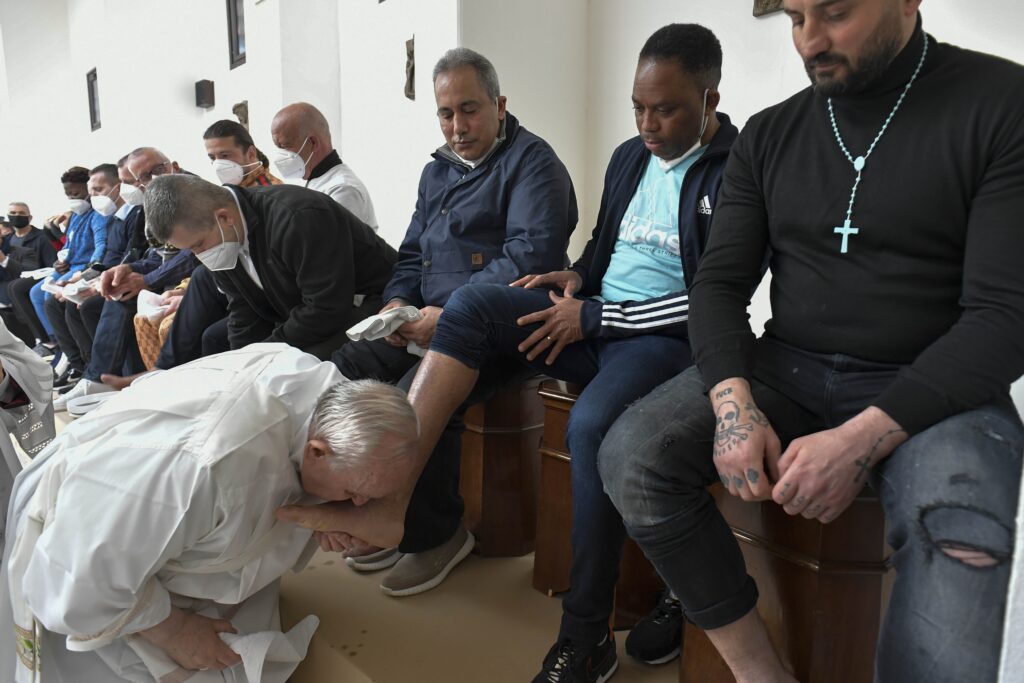 Pope Francis kisses the foot of an inmate after washing it during the Holy Thursday Mass of the Lord's Supper at a prison in Civitavecchia, Italy, April 14, 2022.
Pope Francis has spoken frequently and passionately about prisoners and the need to uphold their human dignity. He has condemned the harsh and inhumane treatment that prisoners often face, and he has called for a more compassionate and restorative approach to criminal justice.
In a speech to prison officials in 2015, Pope Francis stressed the importance of recognizing the inherent dignity of every person, including those who have committed crimes. He urged prison officials to see their work as a mission of hope, helping prisoners to rediscover their worth and their potential for good. He also spoke out against the use of torture and solitary confinement, calling them forms of psychological torture that violate human dignity.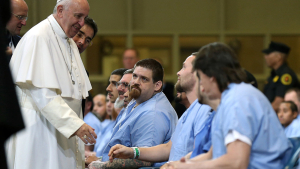 In another speech to prisoners and their families in 2019, Pope Francis highlighted the need for society to support and care for those who have been incarcerated. He acknowledged the difficulties that many prisoners face in rejoining society after their release, and he called for greater efforts to provide education, job training, and other forms of support that can help them to rebuild their lives. He also spoke out against the stigma and discrimination that former prisoners often face, calling on society to welcome them back and support their efforts to reintegrate.
Pope Francis has also emphasized the importance of restorative justice, which focuses on repairing the harm caused by criminal behavior and promoting healing and reconciliation for all involved. He has called for a shift away from punitive approaches to criminal justice, which can perpetuate cycles of violence and harm, and toward approaches that emphasize healing and transformation. He has spoken out against the death penalty, calling it a violation of the dignity of human life, and he has called for greater efforts to address the root causes of crime, such as poverty, inequality, and social exclusion.
Pope Francis has been a powerful advocate for prisoners and a voice for justice and compassion in the criminal justice system. His message of hope and solidarity offers a powerful reminder that even those who have committed serious crimes are still beloved children of God, worthy of dignity, respect, and a second chance.
You can find the Pope's schedule for Holy Week here http://theleaven.org/vatican-releases-popes-holy-week-easter-schedule/
References:
https://www.catholicnewsagency.com/news/40510/treat-inmates-with-compassion-pope-francis-urges-prison-staff
https://www.washingtonpost.com/news/post-nation/wp/2015/09/24/pope-francis-tells-congress-the-death-penalty-should-be-abolished/
https://www.vatican.va/content/francesco/en/speeches/2019/september/documents/papa-francesco_20190914_polizia-penitenziaria.html
https://abc30.com/pope-francis-prisoners-curran-fromhold-correctional-facility-philadelphia/1004577/
https://dismasministry.org/wp-content/uploads/2023/03/lenten-blog-series-header.jpg
444
1074
Juliann Joerres
https://dismasministry.org/wp-content/uploads/2023/01/logo-for-web-header.png
Juliann Joerres
2023-04-05 15:25:36
2023-04-05 19:07:43
Pope Francis has been a powerful advocate for prisoners and a strong voice for justice