"I have been all things unholy. If God can work through me,
he can work through anyone." ~St. Francis of Assisi
Francis of Assisi was a self-proclaimed "wild child." So is Anthony, a prisoner in Indiana.
Unlike Francis of Assisi, from his earliest memories, Anthony was not well cared for or loved properly by his parents. From a very young age, he suffered abuses, neglect, abandonment and the impacts of poverty. From his teenage years and beyond, he entered a life of crime riddled by violent acts and substance abuse.
Here is Anthony's reflection on the road he's traveled from those darkest of days:
"Until I found God, I thought I was a total psychopath because of all the dirt I've done. I was able to do without any feeling whatsoever. Today, I'm remorseful. Today, I can feel. Today, I love and care. I've gone from victim to survivor to victor – Thanks to God! I've always felt God's presence in my life but was so stubborn and calloused. I would never acknowledge Him. There is no other explanation about how I've come out of some of the situations I've been in other than Providence.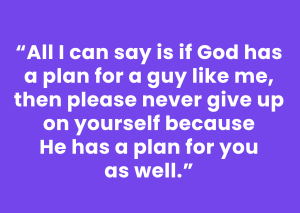 I've reached a turning point in my life. It was time for me to get honest with self, to forgive others and forgive myself. Letting go of all the hurt, hate and resentments. The horrible and evil I've received and released needed to be put to rest if I was to heal and change my life. I've run from my problems my whole life. I'm a professional at escape and evade aside from the Lord's protecting arms around me helping me to survive. Trust me, all the dirt I've done, I should either be in prison for life or dead. I can't count on my fingers how many times I've been pronounced dead from herion overdose. All I can say is if God has a plan for a guy like me, then please never give up on yourself because He has a plan for you as well.
I feel the importance of being up front and straightforward to anyone considering Christianity. It is the way, the truth and the light, plus a beautiful thing. It's worth the effort to stand firm in our faith. Knowing, is a huge advantage, that goodwill always prevails and no matter how hard it gets, I smile in the face of evil because I know I'm on the winning team.
Today, I let go and let God. Today, I pray for these people who've hurt me. Today, I put pen to paper to share a 41-year journey that wasn't always fair in hopes someone, somewhere can relate and find the same peace I've found. Realize you're not alone, that anything is possible with God and with good friends. I extend my hand of friendship to you, whoever and wherever you are in your own journey. Don't give up, it's only just begun. You are loved."
A member of our Prison Ministry Network, Sue Clones, recently shared Anthony's story with us. She and Anthony have been pen pals for four years. The excerpts from Anthony's memoir are shared by Dismas Ministry to shine a light on one prisoner's journey and his renewed hope for the present – and the future.
Pen pals help prisoners stay aware of the world outside of prison, particularly the area where they resided. Through letter writing, individuals "outside" show compassion, caring and understanding and help improve the inmate's self-esteem. These inmates often feel alone and forgotten, and inspiring words of comfort from a trusted friend fill them with hope. To learn more about becoming a pen pal to a prisoner, please contact the Order of Malta – Federal Association in Washington, DC, at https://www.orderofmaltafederal.org/prison-ministry or email: maltapenpalprogram@gmail.com
The artwork in this post is original work created by Anthony M.
https://dismasministry.org/wp-content/uploads/2023/03/lenten-blog-series-header.jpg
444
1074
Juliann Joerres
https://dismasministry.org/wp-content/uploads/2023/01/logo-for-web-header.png
Juliann Joerres
2023-03-23 14:05:57
2023-03-23 20:14:32
Don't Give Up, If God Has a Plan For a Guy Like Me: An excerpt from the memoir of Anthony M., a prisoner