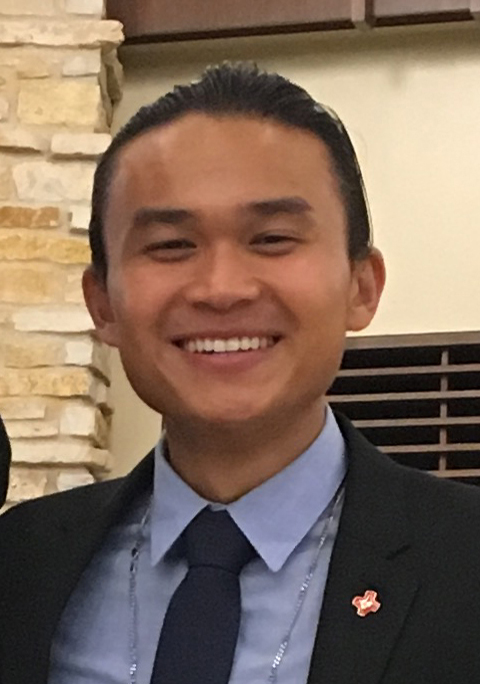 A seminarian at Sacred Heart Seminary and School of Theology, Paul has been a Dismas Ministry volunteer since August of 2018.  He comes in weekly to package bibles, prayer books, and other materials for chaplains and prisoners.  Previously, Paul had been working at another non profit organization.  Then he met Dismas Ministry founder Ron Zeilinger, and learned about the organization.  Paul decided that he wanted to do something different with his ministry.  The founder of the SCJs didn't restrict their members' apostolate, but wanted them to be open to all the needs of the world. So Paul started volunteering at Dismas Ministry in the fall semester.  He feels that it is an easy job – "the hardest part is choosing the right sized box!" – and he likes that packaging is product-oriented.  More importantly, he finds that this ministry gets him out of his comfort zone, and feels like he is doing something useful.
As part of his ministry, Paul has had the opportunity to read letters from prisoners.  In doing so, he can feel the people behind the letters and hear their desperation.  They truly need bibles and prayer books as they struggle to turn their lives around.  They don't have anything and can't afford the materials we provide. So he feels good that he can assist them and be part of something that makes a difference.
You can give them hope, help restore their dignity, and remind them they are not forgotten.
Inspired by his volunteer experience, Paul chose to minister directly to the incarcerated during the second semester of the school year.  He visited the juvenile jail once a month, and was able to actually see how they used Dismas materials.  The most popular resources were the study courses and prayer books – all unique to Dismas Ministry.  He discovered that the prisoners using these materials experienced a personal sense of accomplishment and found purpose and meaning to keep them going.
When asked what he would say to someone interested in volunteering with Dismas Ministry, Paul said he would encourage them to get involved because it is a great ministry.  He said we need to reach out to the incarcerated because they can't reach out to us.  By volunteering, you can help prisoners experience God's love, and that can help them let go of the shame and guilt.  You can give them hope, help restore their dignity, and remind them they are not forgotten.
If you would like to get involved, please contact Dismas Ministry at 414-486-2383 or email at dismas@dismasministry.org.
https://dismasministry.org/wp-content/uploads/2023/01/logo-for-web-header.png
0
0
Juliann Joerres
https://dismasministry.org/wp-content/uploads/2023/01/logo-for-web-header.png
Juliann Joerres
2019-06-10 13:22:05
2019-06-13 13:53:34
Volunteer Spotlight – Meet Paul